National SBIRT ATTC
IRETA is a national focus center for SBIRT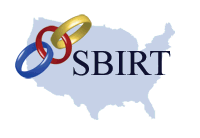 IRETA adminsters a five-year SAMHSA grant to serve as a National Screening, Brief Intervention and Referral to Treatment (SBIRT) Focus Center. As such, we are part of the National ATTC Network.
Our work on the National SBIRT ATTC builds on IRETA's decade of SBIRT training and implementation on a variety of local, regional and national projects. As a National SBIRT ATTC:
IRETA offers training, technical assistance, and a variety of services in the area of SBIRT
IRETA disseminates best practices and new research to stakeholders interested in SBIRT
IRETA is part of a national network of experts in the area of substance use disorder prevention, treatment, and recovery
See IRETA's SBIRT information and resources

Visit the National SBIRT ATTC website

Did you know?
There are three other national focus area ATTCs: Rural & Frontier, Hispanic & Latino, and American Indian & Alaska Native. Learn more about them