Benzodiazepines and Medication-Assisted Treatment
This one-page brochure informs patients about risks related to benzodiazepine use in the context of medication-assisted treatment. It addresses immediate consequences, long-term effects, and the relationship between benzo use and recovery. Can be distributed as a hand out or posted publicly in various settings.
Here's the online infographic: https://magic.piktochart.com/output/1654900-bzd-infographic
The infographic can be shared in online locations like your website or social media! Please do!
Or download the PDF to print and use in various settings.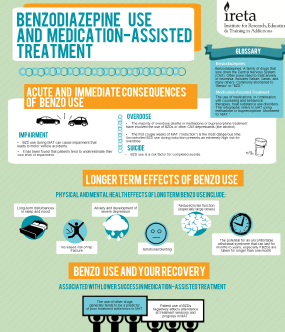 0 Brochures